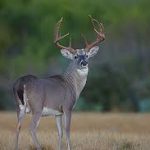 The gemsbok or gemsbuck is a large antelope in the Oryx genus. It is native to the arid regions of Southern Africa, such as the Kalahari Desert. Some authorities formerly included the East African oryx as a subspecies. The current gemsbok population in South Africa is estimated at 373,000 specimens.
Gemsbok are light brownish-grey to tan in colour, with lighter patches toward the bottom rear of the rump. Their tails are long and black in colour. A blackish stripe extends from the chin down the lower edge of the neck, through the juncture of the shoulder and leg along the lower flank of each side to the blackish section of the rear leg. They have muscular necks and shoulders and their legs have white 'socks' with a black patch on the front of both the front legs and both genders have long, straight horns. Comparably, the East African oryx lacks a dark patch at the base of the tail, has less black on the legs (none on the hindlegs), and less black on the lower flanks.
Gemsbok are the largest species in the Oryx genus. They stand about 3.9 ft at the shoulder.  The body length can vary from 75 to 94 in and the tail measures 18 to 35 in.  Male Gemsbok can weigh between 490 and 660 lb, while females weigh 220–460 lb.
In 1969, the New Mexico State Department of Game and Fish decided to introduce gemsbok to the Tularosa Basin in the United States. The introduction was a compromise between those who wanted to preserve nature and those who wanted to use it for profit and promotion. 93 were released from 1969 to 1977, with the current population estimated to be around 3,000 specimens. They thrived because their natural predators, including the lion, are not present.